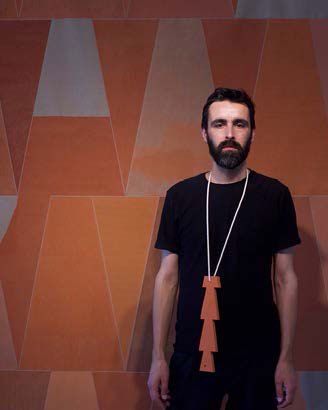 Pedro Sequeira (1976 Cinfães, Portugal) lives and works in Lisbon.
Pedro studied art jewellery, mineralogy, photography and drawing. He obtained a Master's degree from the Fine Arts Faculty of the University Porto in Portugal and graduated from the Akademie der Bildenden Künste in Munich Germany.

Pedro exhibited at private and public institutions such as the Pinakothek der Moderne DE, Museum Catharijneconvent, Utrecht NL, Design Museum of Tallinn EE and Lugar do Desenho – Fundação Júlio Resende, Valbom PT.
Artist statement 2020
Mostly when I arrive in the studio, I don't have a plan of what I am doing next. I am always looking for the unexpected to happen while working with materials, images and writing.
Since the last 10 years my production shifted towards drawing and more recently to painting while maintaining a reduced production in jewellery as I believe one thing informs the other and that is an interesting fact. More important is trying to develop work in the fields I have studied and relate these different types of knowledge, while opening and expanding myself and the work to a common ground.
Personally, I believe that jewellery is deeply rooted in the human imaginary, a phenomena from the early days of mankind. This anthropological ground enables us (not only the maker but essentially the viewer, since those are in greater numbers), today, the possibility to recreate the idea (or place) of a jewel, that is to pull to its inner field something that was on its outside, enlarging it and creating new or renewing relations between jewellery and the world.
In my practice as a jewellery artist, I am more interested in reviewing or commenting on the field itself: how can jewellery be understood? At a time when technology is gaining ground in all human activities, I have a tendency to fight against it, go back to the essential and think about a piece of jewellery by relating
contents such as materials of everyday life and bringing them together in an archaic way or, in other words, a simple gesture. I strongly believe in the figure of the hunter-gatherer man, a primitive figure and an instinct of survival that is still active today in everyone's DNA and spirit.
Industrial archaeology 2018-2019
For some time, I worked in 2 different studios, both in downtown Lisbon: one for jewellery and the other for drawing and painting. This was the time tourism in Lisbon was skyrocketing and renovation of buildings was happening in almost all city blocks. Often, when walking from one studio to the other, I felt that the urban scenario was something like some news coming from fast developing China where entire cities were being built in the course of a short time. Of course, a lot of materials were being dragged out of the inside of buildings and by each renovation site piles of materials were left to be taken elsewhere. Mostly wood, brick and stone, these materials caught my attention. I used some of these found materials to make jewellery, drawings and some sculpture work.